DJ: Bojan Djordjevic
Radio Belgrade 3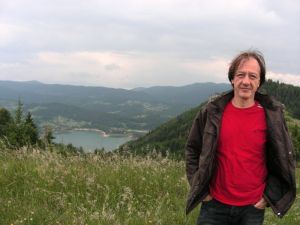 Bojan Djordjević , born 02.08.1962. in Belgrade, Yugoslavia. A lawyer, with great interest in music.
Started to write about music for Student and Youth magazines in 1987. Since then he has been collaborating and writing for music magazines in Serbia, Slovenia, Macedonia, Italy and UK.
Started the first ever radio show about experimental and alternative music in Serbia, on independent Radio B92 in 1990. This weekly show, under the name «Disco 3000» , has been broadcasted ever since. In 1999. this show has been awarded by the votes of the audience as the best radio show in Serbia.
In 2000. Radio B92s music production put him in the A & R position for experimental and world music, where he produced several CDs since then. He has compiled bestseller compilations "Srbija: Sounds Global" and "Rromano Suno".
Since 1987. with friends he organized concerts from groups from all around the globe, mostly jazz and experimental music.
In the Cultural Centre «Rex» Bojan Djordjevic established the International New Music Festival «Ring Ring» in 1996. Every May, as artistic director, he presented new music from all over the world to the local audience. The program includes avant-garde, contemporary, art rock, alternative, free jazz, experimental, electro-acoustic and world.
Since 2012 he is selecting groups and musicians for the World Music Festival "Todo Mundo" in Belgrade.
In July 2015 Radio B92 was terminated by the owners and his radio show "Disco 3000" found the space on Radio Belgrade 3. The live broadcast is on air every Tuesday from 21:00 to 22:00 on the FM frequency 97,60 MHz and on the internet when you go to:
http://www.rts.rs/page/radio/ci/series/1464/%D0%A0%D0%B0%D0%B4%D0%B8%D0%BE+%D0%91%D0%B5%D0%BE%D0%B3%D1%80%D0%B0%D0%B4+3/5455/Disco+3000.html
and then click to Radio Beograd 3 to listen to the program