DJ: Albert Reguant
Ona de Sants Montjuic 94,6 / Catalonia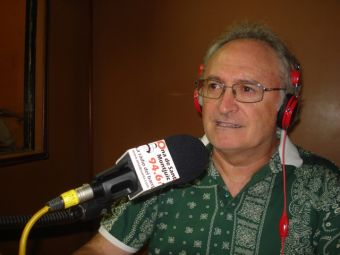 Hello, my name is Albert Reguant and I was born in Barcelona, capital of Catalonia.
I've been privileged to have worked as a music specialist in the three media; television, radio and magazines. I started by creating and directing of the alternative music programme "Hidrogen", a weekly for twenty years (from 1992 to 2002) in Television of Catalunya. Then came other programs called "Músiques del Món" (2004/5), and "Planeta Musica" (2006/7).
In 2009, I was invited at Festival TV "Golden Prague", to present those three world music's programmes. Today, these programmes are a referent in the international public TV.
In radio, I directed my historical "Hidrogen" program, in several channels at the public broadcaster of Catalunya Ràdio, from 1999 until July of 2013.
Currently I am in the public local station Barcelona "Ona de Sants Montjuïc" (94.6 FM and internet), the oldest local station in Barcelona, ​​with a very liberal culture philosophy. I produce and present "Les Rutes del So". It is broadcast thursday night between 21:00 and 22:00 o'clock and is repeated on every sunday night.

I've been correspondent for several magazines of WM in Spain, Italy, and France. Presently writing for the web magazine USA "World Music Central" www.worldmusiccentral.org.
My curiosity has led me to attend regularly the most interesting events in "world music" performed by the world. For instance, I am one veteran journalist to attend the congress European WOMEX (all of them, from 1995). I have been the only European journalist invited to attend the renowned U.S. Congress FOLK ALLIANCE (from 2000) too. I use to attend regularly some other conferences and forums taking place around the world, including Babel Med Marsella, Folkelarm Oslo, Medimex Bari, Tallin Music Week, Celtic Connection Glasgow, Sami Easter Festival Kautokenio, La Grande Rencontre Montreal/Quebec, or Australasian Music Expo in Melbourne (Australia).
My favourite music styles are; world music, folk music (ancestral and contemporary), bluegrass, Celtic music, and neo-classic & progressive music.

I am also a member jury of Award "La Opinion A Coruña" of Music Folk Galicia.
Spain